Playstation2 V1, V2, V3, V4, V5/V6 and V7 Identifikation


Hvordan finder jeg ud af hvilken Playstation2 model# jeg har?
På bagsiden af din playstation finder du en label der viser model nr. SCPH- som vist herunder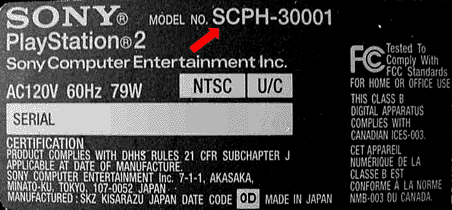 | | |
| --- | --- |
| V7 | Hvis model nr. er SCPH-39000, 39001, 39002, 39003, 39004 or 37000 så har du en V7 PS2 hovedprint |
---
| | |
| --- | --- |
| V5/V6 | Undersøg nedenstående hvis du har en V5/V6 PS2 hovedprint. |
Model nr. kan være SCPH-30000R, SCPH-30001 R, SCPH-30002 R, SCPH-30003 R, SCPH-30004 R, SCPH-30006 R
men nogle har også SCPH-30000, SCPH-30001, SCPH-30002, SCPH-30003 and SCPH-30004 PS2 er V5/V6 hovedprint.



Modellen herunder er kun vist som eksempel.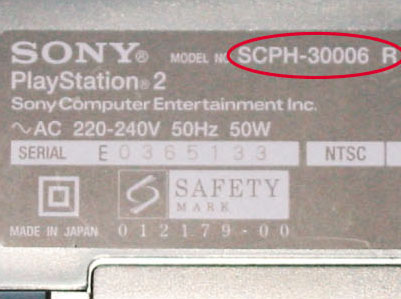 Make sure to double check that the screw shown below is actually in your system.
Simply take out the expansion slot cover,turn round your PS2 and check to see if the screw shown below is in your console, if it is, it is safe to purchase the Magic2 R modchip as you have a V5/V6 console.

If you dont have the screw in the expansion slot you have either a new V7 PS2 or an older V1-V4 PS2 baord.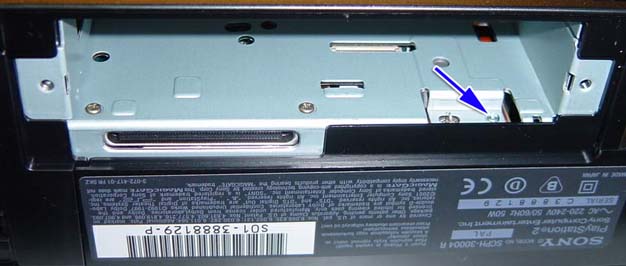 ---
| | |
| --- | --- |
| V4 | Please check below if you have a V4 PS2 main board. |
The model # can be SCPH-30000, SCPH-30001, 35001, SCPH-30002, 35002, SCPH-30003, 35003, SCPH-30004, 35004
If the marked screw doesn't show up in the expansion bay of your PS2 then please take a look on the bottom of the PS2 case. If there is an electrical hazard warning on the bottom of the case then it is a V4.


---
| | |
| --- | --- |
| V1, V2, V3 | Please check below if you have a V1,V2 or V3 PS2 main board. |
Turn the playstation upside-down and check how many screws there are.
The screws are covered by black plastic or rubber hole covers.
You can easily remove the screw covers by prying them off with a small flat head precision screwdriver.
If you have 10 buttom screws you have a V1, V2 or V3 PS2 model so you need the Magic2 V3 modchip.
Version 4, 5/6 and 7 consoles can be differentiated from previous versions as they only have 8 screw covers on the underside of the console.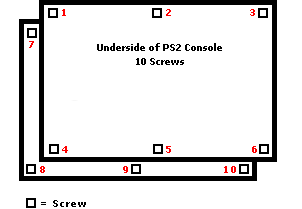 Console Versions 1 to 3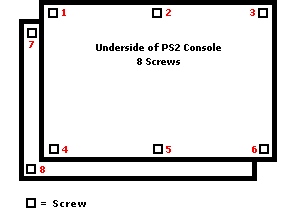 Console Version 4, 5/6 and 7